Sand Dune House (showcased on Grand Designs Australia)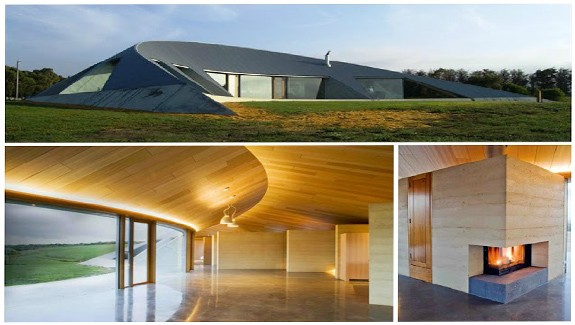 On the popular lifestyle show Grand Designs Australia, the striking and sustainable 'Sand Dune House' near Inverloch on Victoria's Gippsland coastline was introduced.
Not only the UFO like design of the house got the viewers, but also the beautiful rammed earth interior. What makes this building so special is that their plan was something completely untested – a design based on a barchan sand dune…an arc shaped sand ridge.
Inside, 7 free standing rammed earth walls separate the spaces as well as help support a 'ring-beam' of super strong laminated timber, one of many invented systems in this house, that encircles the entire perimeter and props up a grand vaulted ceiling.
The rammed earth features were built by StabilEarth with help of Tech-Dry Plasticure and Earth Binder.
Plasticure is a water-repellent admixture designed to be incorporated in the manufacture of stabilised earth products including stabilised earth building materials, rammed earth walls containing cement or pressed concrete blocks. When added it will make the rammed earth products permanently water repellent, salt and mould resistant, and strengthen its structure. This product will allow the structure to impart excellent water repellency, both internally and externally, providing long term resistance against weathering and deterioration.
To dust-seal the walls, the Tech-Dry acrylic based sealer 'Earth Binder" was used. Earth Binder penetrates the capillaries of earth substrate surfaces providing the substrate with a dust-sealing effect and surface abrasion resistance.
For more information to the products, click on Plasticure (link) or Earth Binder (link).To have a look at the "Sand Dune House" visit the Lifestyle Australia Website (http://www.lifestyle.com.au/videos/grand-designs-australia/inverloch-house-sand-dune-house–take-a-tour-2708105718001.aspx)