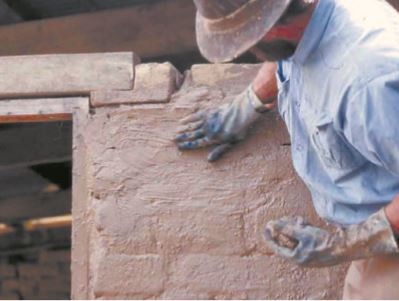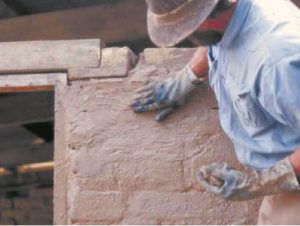 In the past, rising damp was a nightmare for home owners. Then the 1970s and '80s saw the enthusiastic trend for earth buildings. Moisture problems in such buildings could be highly detrimental. Enter Tech-Dry Building Protection Systems and their specialised earth protection products. You will have seen the small Tech-Dry display ad in GR, it's been a constant for several decades. The helpful and unique range of products Tech-Dry offers is due to two remarkable men: Dr Douglas Kagi, who started the business in 1982; and Dr Ren Kebao, a former student of Doug's and the firm's technical Manager. Doug undertook his PhD many years ago in organic chemistry and one of the areas of study was silicone chemistry for building protection. Working as a senior lecturer at Victoria University for 21 years enabled Doug to delve further into building protection. Along with his PhD student, Ren Kebao, he recognised a gap in the market and proceeded to develop a range of water-based environmentally friendly sealants, admixtures and waterproofing innovations for the building industry. The Tech-Dry office is located in South Melbourne with production and laboratory on site. All products are researched and manufactured in Melbourne, and the business is 100% Australian owned.
UNIQUE APPROACH
Technical Manager Dr Kebao is constantly developing and adapting to meet the needs of customers for optimal building protection. This has led to a range of earth protection products including penetrating sealers, binders, emulsions and admixtures for both interior and exterior applications. The products provide excellent water repellent properties and resistance to weathering, and are suitable for all earth construction types including mudbrick, strawbale, stabilised earth, rammed earth and earth renders. For example, to make a reliable water-repellent earth render, TechDry recommends its Earth Bonding Emulsion and Earthaid are used as admixtures in the render mix to provide binding, adhesion and water resistance, while the Mud Brick (or Stabilised Earth) Water Repellent is used as the final protective finish after the wall is rendered to provide a durable exterior water repellent finish.
OTHER PRODUCTS
As well as the products for water-proofing, rising damp, and penetrating damp, Tech-Dry has created anti-graffiti products. There's an environmentally friendly, waterbased, low-cost sacrificial wax coating that stops graffiti adhering to masonry, plus a biodegradable, low-odour, low-toxic graffiti remover, which can also be used as a paint stripper of oil-based paints, but cleans up easily with water. One notable step taken by Tech-Dry has been the adoption of sustainable practices that ensure products are ecofriendly.
SUPPORTIVE ADVERTISER
We applaud the valuable work of Dr Douglas Kagi and Dr Ren Kebao, their research and product development having made the earth dwellings of countless GR readers more enduring and comfortable. Their recognition of the magazine and its keen DIY readers as appropriate users of building protection has been mutually rewarding. Tech-Dry can help you whether it's protection for concrete or more involved sealing and rendering.
For further information 03-9699-8202 or head to the website: www.techdry.com.au